Resources
Structural System Assembly
Structural System Assembly
Introduction
This resource is a part of the Build lesson series.
Grade Level: 7th – 12th grade
Length of Lesson: 1 – 2 days
Goals:
Students will identify various types of simple and complex structures in the world
Students will be introduced to the SeaPerch ROV structural system
Students will begin construction of their SeaPerch ROV structural frame
Common Core Academic Standards:
ETS1.A: Defining and Delimiting an Engineering Problem
ETS1.B: Developing Possible Solutions
Materials:
SeaPerch kits and equipment (one for every 2-5 students)
SeaPerch Construction Manual
Lesson: LAUNCH
Present the SeaPerch Structural System PowerPoint slides 1-4. On slide 4, ask the students "What happened?" in each of the pictures.
Discuss various structures around the world, both simple and complex, such as bridges, towers, buildings, etc.
Discuss how structures fail, and what can be done to strengthen them.
Lesson: INVESTIGATE
Hand out the

SeaPerch Construction Manual

.
Focus the students on the section corresponding with the vehicle frame assembly.
Show the

SeaPerch Structural System PowerPoint

slides 5-8. These slides show how students are to measure and cut the PVC pipe pieces needed for their ROV design.
If a group has a modified ROV structure, they will need to figure out the length of each pipe piece. The pipe fits into the ¾" connector.
Lesson: PRACTICE
Students will follow the construction manual to safely measure, mark, and cut their PVC pipe for the ROV structural frame. The ends of the pipes may need to be slightly sanded in order to remove burrs or rough places. After the students have finished, the teacher should check each group to ensure that their PVC pipes have been cut correctly.
Explain to the students that for today, they have all been structural engineers. However, for the rest of the build, they will split up their expertise so that each group member has a specific job. The members will be as follows:
Structural Engineer
Mechanical Engineer
Electrical Engineer
Project Manager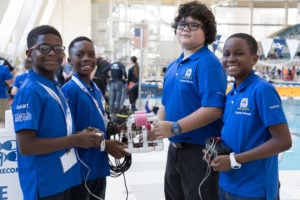 Download PDF
Releated Resources
Structural System Presentation
This resource is a part of the Build lesson series.
View Resource
Mechanical System
This resource is a part of the Build lesson series.
View Resource
Training Video: SeaPerch Basics
This video is a part of the SeaPerch Training video series.
View Resource
Discover other SeaPerch resources!